Job offer: Postdoc in Biology, Biochemistry or Biophysics
Position available at the Jülich Centre for Neutron Science in Garching near Munich, within the framework of the SINE2020 activity on Crystal Growth.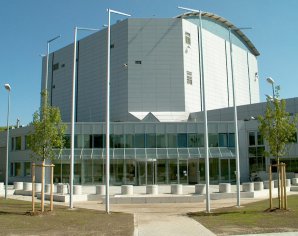 MLZ in Garching. © Wenzel Schürmann, TUM
The Jülich Centre for Neutron Science (JCNS) provides scientists at universities and research institutions in Germany and throughout the world with access to neutron instruments of the highest performance class. In addition, as part of a cooperation agreement with Technische Universität München (TUM), JCNS also performs experiments at the Heinz Maier-Leibniz Zentrum (MLZ) in Garching near Munich. At MLZ, primarily basic research is conducted in the fields of physics, chemistry, biology, and materials science.
JCNS is looking to recruit a Postdoc in Biology, Biochemistry or Biophysics within the SINE2020 framework.
Your Job:
Identify common features of the growth of large protein crystals from the literature and from available datasets
Development of suitable set-ups for controlling crystal growth conditions based on e.g. light scattering techniques or optical microscopy
Experiments on these set-ups to show their capability to improve crystal growth conditions for the increase of the output crystal size
Project related communication with international scientists
Performing experiments at the instrument BioDiff or other neutron diffractometers in order to check the suitability of the grown crystals for neutron diffraction
Publish the results in peer reviewed journals and present them on national or international conferences and within the meetings of the SINE2020 EU project
Your Profile:
University degree in biology, biochemistry or biophysics or a related discipline and completed relevant PhD level
Knowledge in protein crystallization using the most common methods (batch crystallization, vapor diffusion, counter diffusion)
Practical experience in molecular biology methods (protein purification, gel electrophoresis, etc.)
Having fun in developing new apparatuses, learning new skills and methods
Experience in implementation and statistical analysis of experiments
Very good command of written and spoken English
Initiative character, creativity, good communication skills, result orientation and analytical skills
Ability to work independently and as a team player
JCNS Offer:
Exciting working environment on an attractive research campus, ideally situated close to the city of Munich
Opportunity to work in a team of motivated scientists and engineers, as well as with international partners
Creation of innovative technologies
Possibility to involve Master or Bachelor students in the course of the project
Promoting professional development through participation in national and international conferences and through various training programs
Limited contract for 2 years
Full-time position with the option of slightly reduced working hours
Salary and social benefits in conformity with the provisions of the Collective Agreement for the Civil Service (TVöD).
Place of employment: Garching (Munich)
Contact Human Resource Development
Barbara Kranen
Tel.:02461 61-9700