Hungary and Industry: Automotive Expo and TechTogether
19th-20th October 2016, 18th-20th October 2017 and 17th-19th October 2018
Budapest, Hungary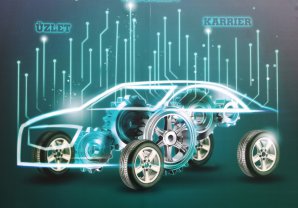 Automotive Expo
This leading professional fair of the Central-European region attracts around 10 000 automotive professionals and experts from four contintents and provided a great opportunity for SINE2020 and the Budapest Neutron Centre (EK and Wigner Research Centres of HAS) to showcase the potential benefits of neutron measurement techniques for the automotive industry. (For information on these benefits, see our Neutrons for Cars Case Study)
In 2016, colleagues from SINE2020 and the Budapest Neutron Centre (BNC): Dr Caroline Boudou (ILL), Mr Mirko Boin (Berlin GEMS) and Hungarian scientific experts: Dr László Rosta and Dr László Szentmiklósi (BNC) manned the SINE2020 stand and gave four conference lectures.
TechTogether Competition
In 2017 and 2018, BNC also joined automotive industrial companies in participating in and sponsoring the parallel TechTogether event. This competition involves student teams from national universities carrying out dedicated tasks and quiz questions conjured up by scientific professional experts. One of the goals of the competition is to establish closer ties between technical higher education students and automotive firms. At the same time, through the involvement of the exhibitor vehicle constructor teams, the competition promotes technical courses for young, high-school–age students, and brought to the competitive teams the challenge of scientific approaches to this sector. The BNC delegation contributed decisively to increase the presence of scientific innovative technologies both for the Exhibitors, competitors and the event spectators.
A side event also held during the 2018 TechTogether Competition was the Roundtable Conference. 60 – 70 people from the participating University 'engineering teams' heard presentations from two industrial measuring companies and a BNC expert and then took part in Roundtable discussions on non-destructive material analysis and measurements in the automotive industries. Topics included technical failures, quality control measurements and test trials in automotive industries where there were arguments about the analytical methods to use for non-destructive measurements.
For BNC and SINE2020 the three day event was an excellent opportunity for networking, maintaining existing business relations and establishing new contacts in this important industrial sector.
Photos from TechTogether 2018

Szeged University Team

Pannonia University Racing Team with BNC experts

Competition Programme

Competition Sponsors
Final winners (BME Fomula Racing Team)

BME Formula Racing Team