SINE2020 WP10 gather for Workshop IV in Lund.
22nd – 24th May 2019
ESS in Lund, Sweden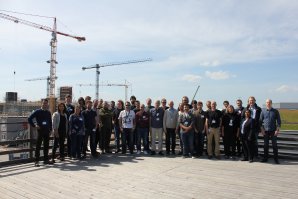 Participants of Workshop IV
40 participants from all over Europe who work on, or in close association with, the Data Treatment software work package of the SINE2020 project gathered at the European Spallation Source in Lund, Sweden. This workshop was the fourth in a series of workshops that have been held during SINE2020.
The first day consisted of a series of presentations on the different projects within the work package. A summary of the progress, results, problems encountered and future plans were reported on SasView, BornAgain, QENS, MuhRec, MDANSE, AbINS and Muon Spectroscopy software.
On the second day, the morning began with parallel break-out sessions which gave the opportunity for smaller groups to workshop and brainstorm the next steps in their software development plans.
Photos from the break-out sessions:

Workshop IV

Workshop IV

Workshop IV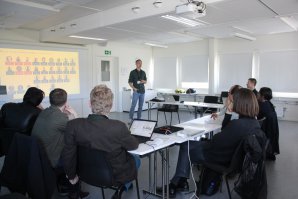 Rune Nørager talking about the User Experience
For the rest of the programme (days 2 and 3), participants had the opportunity to hear from other related software developments and projects and also discuss the sustainability of data treatment software after the SINE2020 project has finished.
Participants also heard from Rune Nørager from Aarhus University, who has a background in psychology, invited to talk about the "The psychology underpinning good UX" i.e. the importance of the User Experience when designing User Interfaces. In particular, to make a software package useful, it needs to successfully combine both the utility (or functionality) and the usability factors, so it is important to consider the user journey when designing GUIs.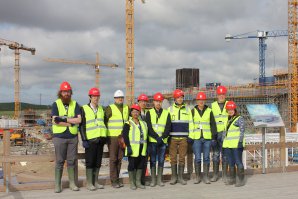 Some participants on an ESS site tour.
As well as the talks and discussions, there was also room in the programme to go on a site tour of the ESS. After attending a safety briefing and donning appropriate safety gear, the tour groups were shown around the main areas of the building site and enter the instrument hall that will be home to 8 of the first instruments.
And of course there was plenty of time for extra discussion during breaks and meals including the Thursday evening dinner at the Grand Hotel in Lund – with piano accompaniment and a personal visit from the chef to announce the menu.
One of the Key Performance Indicators of the SINE2020 project, this fourth and final workshop of WP10 follows Workshop III in Soragna, Italy (2018), Workshop II in Grenoble, France (2017) and Workshop I in Villigen, Switzerland (2016). Each workshop has proved valuable and productive for getting everyone in the same room at the same time to have constructive discussions and make effective progress, benefitting all current and future users of the software being developed.
Workshop IV Dinner 1

Workshop IV Dinner 2

Workshop IV

Workshop IV

Workshop IV

Workshop IV

Workshop IV